RealMeteo 6 is PORTABLE! (italiano)
What does this mean? You can install RealMeteo 6 portable on a USB stick and run it on upon any PC.
How to? You need to dedicate a USB stick.
1) Install the SUITE PROTABLEAPPS downloading it from http://portableapps.com/ or directly from http://portableapps.com/download
2) Download from RealMeteo PORTABLE from da www.realmeteo.com/public/RealMeteoPortable_6-1-1.paf.exe (waiting for official delivery fro PORTABLEAPPS ), save it on a forlder or on desktop.
3) Launch START.EXE from USB stick
4) Select Applications -> ADD NEW APPLICATIONS and search for the installer RealMeteo PORTABLE that you have just downloaded.
5) Now in the SUITE found RealMeteo Portable and you can start it with one click.
P.S. it is recommended to also install TEAMVIEWER PORTABLE, called by RealMeteo in case you need to remote assistance.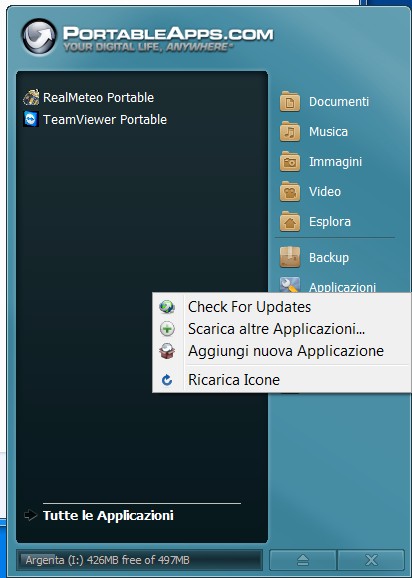 more info : http://www.realmeteo.com/public/Help-Online-Quick_Start_eng.asp
Dopo aver provato RealMeteo in modalità demo, ricorda di

richiedere

il tuo seriale di attivazione

QUI



After Tested RealMeteo in demo mode,

sign-up for free

and get your serial number to activate Realmeteo in Full Mode:

click here !
---
link
http://www.softpicks.net/software/Internet/Browsers/RealMeteo_Portable-226344.htm
http://softwarebee.com/download/realmeteo.html
-