RealMeteo Quick Start Guide (Italiano)

Use immediatly RealMeteo with this Guide:
1) Install RealMeteo portable from PortableApps Suite via command Applications, Download new applications. You can find it in the Internet category
NOTE: RealMeteo can launch directly TeamViewer, in case you need remote assistance. Please Install TeamViewer Portable
Once installed you will find the icon RealMeteo in the Internet category. Run it with a single click.
NOTE: PortableApps is a free suite that can be installed on USB sticks and portable drives that you can install and launch several programs PORTABLE. You can download it from www.portableapps.com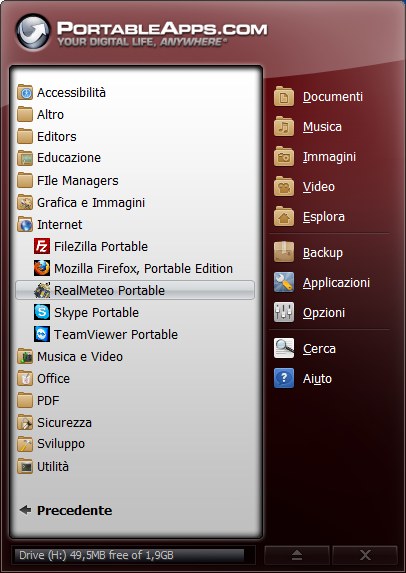 2) The first run we need to set the Preferred Language

3) Now we need to set the connection type.
3.1) If the connection is made via ADSL, WI-FI MODEM or do not need other data
3.2) If the connection is made via PROXY aziendaale, are also data on PORT ADDRESS ACCOUNT PASSWORD.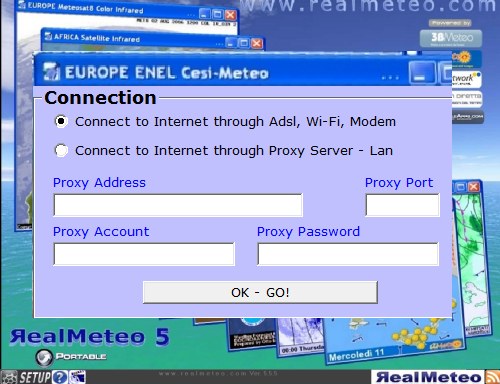 4) In this form you can put the name of your town.
Tips & Tricks: for quick start let default values.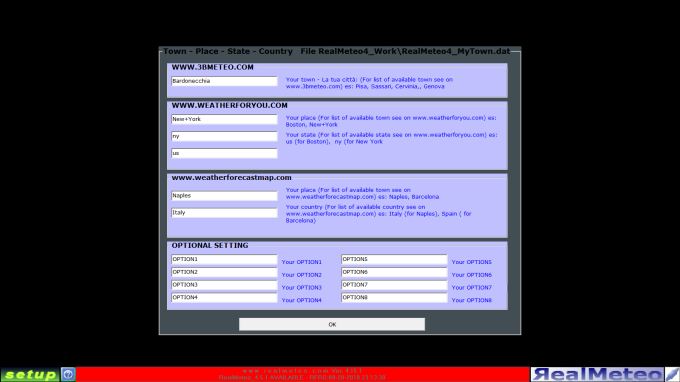 5) Click OK to accept the LICENSE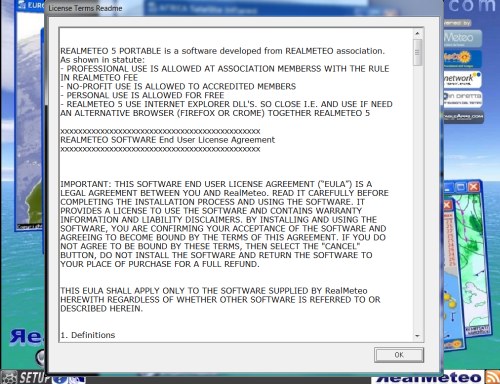 6) Wait for the loading of 4 maps DEMO (default preset)
Tips & Tricks: attop left is the preview of the maps loading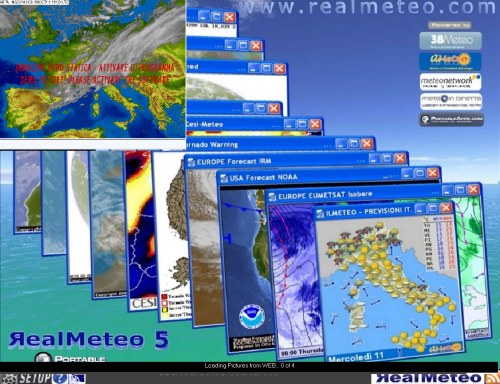 7) At end of download , the DEMO maps are shown in an automatic sequence, called SLIDE-SHOW
Tips & Tricks: SLIDE-SHOW speed can be adjusted from the control panel (SETUP-TIMERS)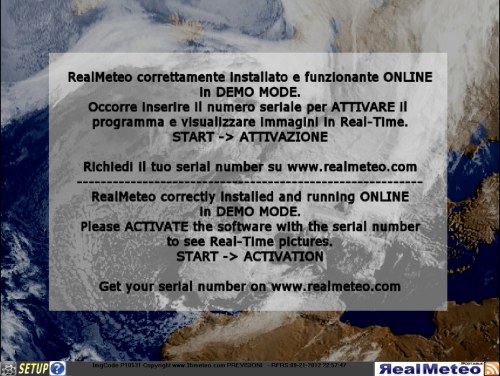 8) Register on the site by clicking REGISTER . Within seconds, the system will send to the email indicated SERIAL NUMBER to enable the program to operate in REAL-TIME.
Tips & Tricks: You can also do these steps in advance, and save the SERIAL NUMBER of a text file for later use.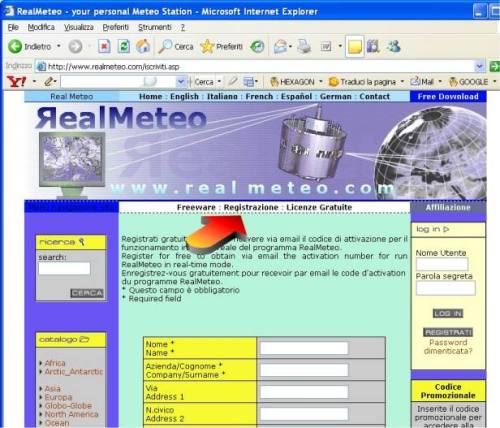 9) Once you have the SERIAL-NUMBER, enter the control panel by clicking SETUP (bottom left)
Tips & Tricks: To enable the software is essential to be connected to the Internet.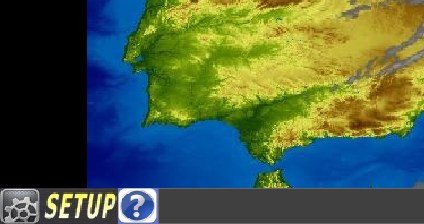 10) Select the TAB FREE REGISTRATION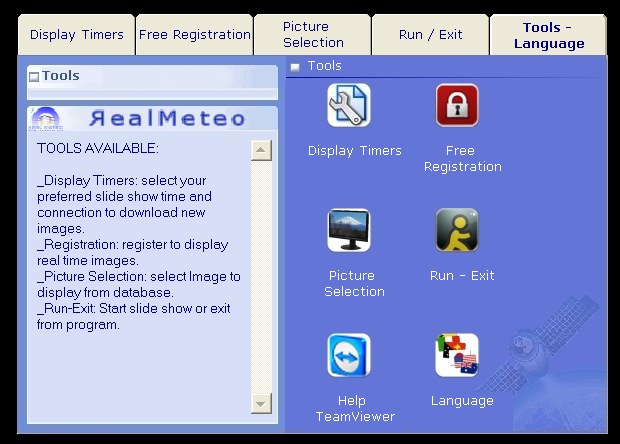 11) Click SERIAL-NUMBER icon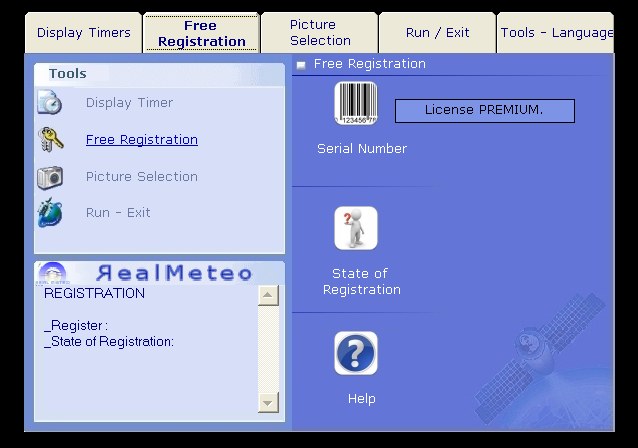 12) Insert the SERIAL NUMBER-received by email
Tips & Tricks: Use copy-paste and make sure not to add spaces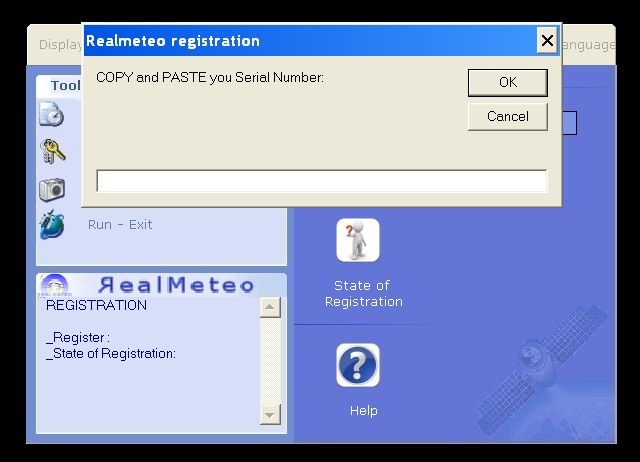 13) Before starting the SLIDE-SHOW, you can set the images in the SLIDE-SHOW
Tips & Tricks: is possible load XML collections redy to use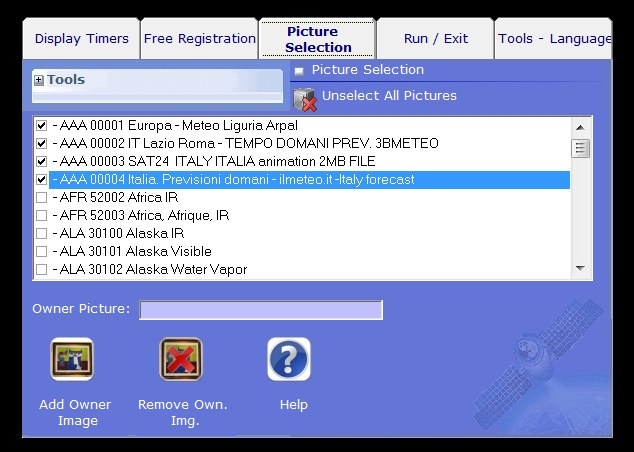 14) Click TAB RUN / EXIT to START SLIDE SHOW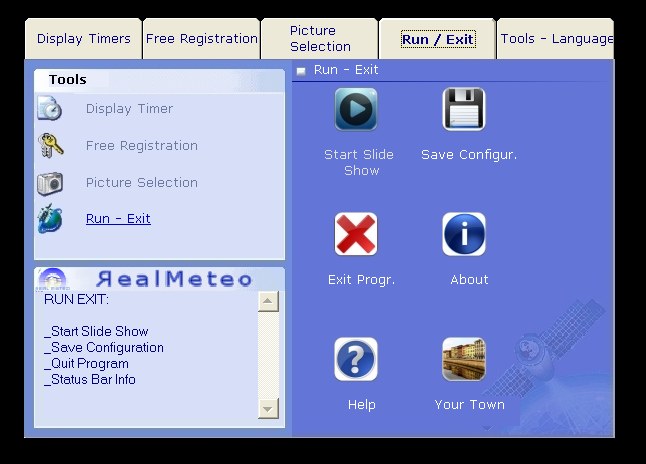 ---